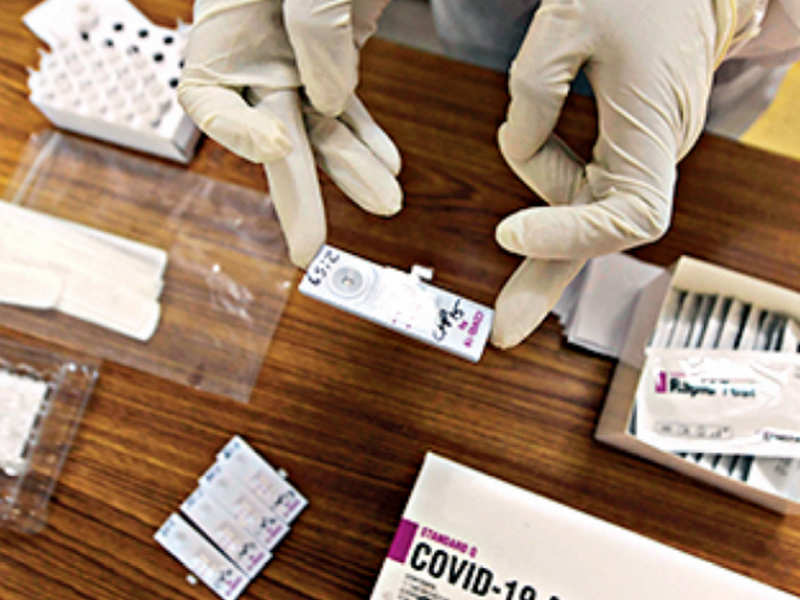 NEW DELHI: Only 15% of
symptomatic individuals
who tested negative for
Covid-19
in
rapid antigen testing
conducted in Delhi were found to be positive in a second confirmatory
RT-PCR
test, the health ministry said on Tuesday.
The health ministry said over 3.63 lakh samples were tested by the RAT method between June 18 and July 21. Of these, 6.33% tested positive for Covid-19. Of those that tested negative, 2,294 cases were symptomatic and re-tested with RT-PCR for confirmation and around 15% of them were found Covid-19 positive, said Rajesh Bhushan, officer on special duty.
The government pointed to the latest data on Delhi to address concerns whether Covid cases were slipping out of the net as persons testing negative in the antigen format — and who are asymptomatic — are not being subjected to an RT-PCR test. The relatively low rate of confirmations of "symptomatic negatives", the government indicated, meant the strategy is sound. Testing all negatives, as initially considered, might result in wasteful testing.
Some experts, however, maintained that the risk from a false negative is high. "The symptoms do not manifest immediately and antigen test may not be able to catch the viral load with exact specificity at an early stage," an epidemiologist said.
According to ICMR's protocol, any sample testing negative through RAT will have to be mandatorily retested with RT-PCR if the person demonstrates symptoms. Bhushan said those testing negative with no symptoms are to be monitored for a few days. If they develop symptoms, they are to undergo RT-PCR tests.
The strategy has been framed keeping in mind that antigen tests are helpful in early detection, officials said.
This comes in the wake of rising concerns that many samples testing negative under RAT are not confirmed through RT-PCR, raising the risk of false negatives which might be resulting in a euphoria over falling number of cases in many states.
On Tuesday, TOI reported that in Delhi, around 18% of negative rapid antigen results tested positive under RT-PCR.